Let's accept it: We are victimized in one way or the other as we unfold the world of web; spams, virus injected webpages, malicious software and adware toolbars are all over the web waiting to desperately reside on our PC as well.
One more software spotted by my friend is X3Player — similar to domplayer — this is a rogue software integrated with torrent files.
Here's how X3Player stays on your PC:
When you visit torrent websites and download any large torrent files, say a movie torrent, everything looks fine. The download speed is as smooth, but the real issue comes in when you play the file using your media player. The movie video fails to show up on VLC, Mplayer or any of the good freeware player. You will get a message like this:
You need X3Player to Watch this movie. Download it from Real.X3Player.com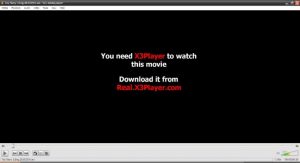 So Should I Download X3Player?
Of course not. Do not download X3Player. The rave reviews and testimonials you see on the x3player website are all done for a reason: to impress you and lure you into buying the program. The software is priced at $9.99 and this is one smart move from them to have you into buying the player so that you can watch the movie. Well, forget it. Don't buy this.
You can always avoid downloading such players by identifying fake torrent files. Once you are able to identify the file you were about to download is fake, skip them. This will save your bandwidth and, more importantly, your time.
X3Player is a Scam. There I said it.