Good news everyone. The hugely popular group messaging app is now available for download in the Windows Phone Marketplace.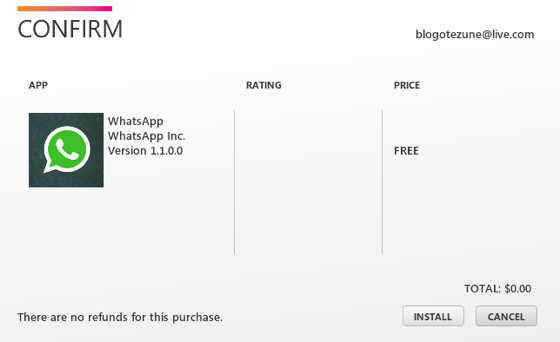 Users with the Mango-updated Windows phone can download WhatsApp for free from the marketplace.
For those who don't know yet, WhatsApp is a popular cross-platform instant messaging application where you can exchange messages and text your friend through WiFi. The only condition is that your friend should have WhatsApp installed on his smartphone to receive and send text messages for free.
You can also group chat, send photos, videos and engulf yourself in the sea of texting without having to pay anything. WhatsApp is your gateway for free SMS.
WhatsApp not available in Windows Marketplace
Since WhatsApp can run across multiple platforms, WP7 users can connect to iPhone, Android and BlackBerry phones. However, for now, not all the WP7 devices can use WhatsApp.
If your WP7 device is updated to Mango, then a quick search in the Windows Phone Marketplace should reveal the application.
In case WhatsApp is not visible in the Marketplace, then head over to this link (opens in Zune Player).
Developer unlocked Windows Phone 7 owners can also download the older version of WhatsApp (1.0) from Skydrive — the file is in .XAP format.