Good news: A well-known hacker is working round the clock to bring jailbreak for iPhone 5 and iPad devices running on iOS 6 and iOS 6.0.1 firmware.
Bad news: The hacker is still working.
Chronic Dev Team's Joshua Hill aka @P0sixninja started tweeting his thoughts about iPhone 5 jailbreak today. First, he stated that "the current status of an iPhone 5 jailbreak is grim" which was followed by "I'm working on something bigger."
The current status of an iPhone5 jailbreak is grim. I'm working on something bigger and few people share with me anymore

— Joshua Hill (@p0sixninja) November 10, 2012
Users who are curiously waiting for the next untethered jailbreak for A5 devices started questioning P0sixninja on Twitter, and so the short story unfolds. Sure, iPhone 5 jailbreak looks grim, but the second part — the "working on something bigger" part — was later revealed.
The iOS hacker is apparently working on BootROM and decryption keys for A5/A6/A6/A6X. This means if iOS vulnerabilities are caught, then we shall soon see a jailbreak not only for iPhone 5 but also for iPad 3, iPad 4, and the new iPad Mini.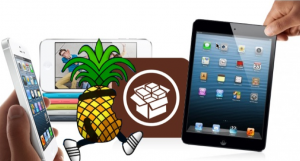 iPhone 4S devices, which are already shipped with iOS 6, is surprisingly left out from the set.
For those who haven't been following the jailbreak scene, the public jailbreak for iOS 6 devices is out for the following devices:
iPhone 3GS
iPhone 4
iPod touch 4G
Read more: Jailbreak status for iOS 6 Devices
P0sixninja further adds that he is trying to find bootroom exploit (see how iOS jailbreaking works) "in a way that's never been done before."
Despite the agonizing issues with iOS 6.0.1, many people are waiting for these brilliant minds to come up with a jailbreak for their devices. Do you think iOS 6 can be jailbroken in the coming weeks? Let us know your thoughts through your comments below!