Rain Lendar is a popular desktop calendar program build for Windows, Mac and linux. If you want to include multiple desktop calendar, alarm clock, Google calendar or event management on your desktop then Rainlendar can be beneficial.
Recently the latest Rainlendar 2.5 version was released that includes enhanced features and customization options. The popularity of Rainlendar is with the skins and themes availability. If you are installing Rainlendar themes then head over to the directory of rainlender installation and unzip the skin in skins folder.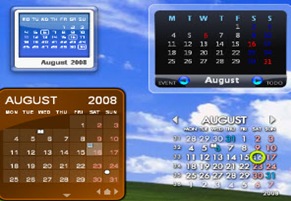 With Rainlendar you can backup, restore and customize it's skin and events. You can also make a short to do list or search your events from the program which resides in the Windows sidebar.
Here are the direct download link of Rainlender 2.5 Calendar:
Rainlendar website: Homepage
Rainlendar 2.5 For Windows: Download
Rainlendar 2.5 For Mac: Download
Rainlendar 2.5 For Linux: Download
Note: The above download links are of Rainlendar lite version. Rainlendar comes with pro and lite version, though I would recommend the lite version as it is free and maybe it will be enough to carry out calendar event tasks on your desktop.