First of all I thank the Tineye Team who invited me to use there search engine and commenting on Blogote:
Hello!

Thanks for sharing your thoughts about the service – We're excited to see so much interest in TinEye! We are glad to have you as a fan!

If you have any comments or feedback about our search engine please let us know at tineyefeedback @ ideeinc.com.

Awesome post – thanks again!

~ the TinEye team
This comment pumped me up to write more interesting stuffs here. Today, we will cover yet another web property that goes by the name Webon. Lycos silently launched this service for free, but what does it do? You can use webon to create your own website or blog for free. You don't have to code, or make your own script. Simply sign up to Webon, choose a name (custom domain name) and add interesting content. You can use Webon to create your own visual resume.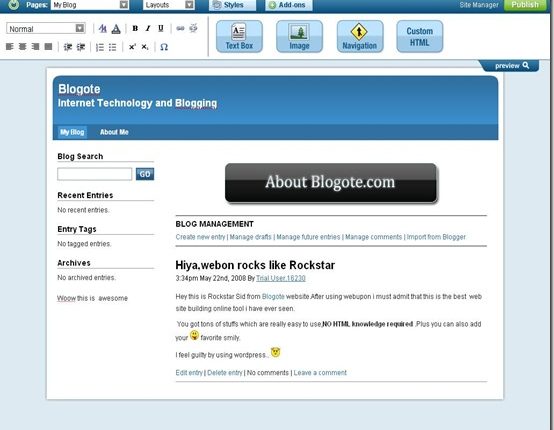 You don't have to pay for any storage space or server space.
Some of the features I like about Webon are:
1. Test before you join – No need to register. Just sign up and have your own page setup instantly, with no ads of course.
2. Innovative web page editor – Click on the header or on the sidebar to write whatever you want. In other words, there's no need to code. Building sites was never this easy.
3. Linking features – Just like WordPress software, webon has the linking feature but their is also a email linking feature and you can also link to any blog post without typing or copying the URL.
4. Powerful addons – Drag and drop addons like archives, search, recent comments, tags, maps, album and much more very easily.
5. Interactive Styles – Choosing various styles is possible with webon's theme gallery where you will find lots of templates to choose from.
6. Upload photos in batches – Upload photos from your computer or impost from image sharing websites in bulk.
Overall, I personally loved webon for what it offers. If you can't buy a domain name, or if you don't want to buy it because of maintenance issue, this is the site you should check it out.