In a short time, the copy of WhatsApp will consume space in Google Drive, according to a filtration based on the development of a tool to decide what specific types of data we want to upload to the cloud.
Currently, the backup of WhatsApp in Google Drive does not count towards the space limit, thanks to an agreement between the two companies. The only option on file types is to include or not the videos, which is reasonable, since the busy megabytes or gigabytes are not a problem.
Can WhatsApp Web be used without scanning the QR code
Now WhatsApp is working on a "Manage backup size" section that will allow us to exclude photos, videos, audios, documents, and other multimedia content. For now, it is not available in the app, but it already appears in the internal code.
This new tool will allow us to refine much more what type of we want to store in the cloud, be it Google Drive on Android or iCloud on iPhone. This is what the new system would look like: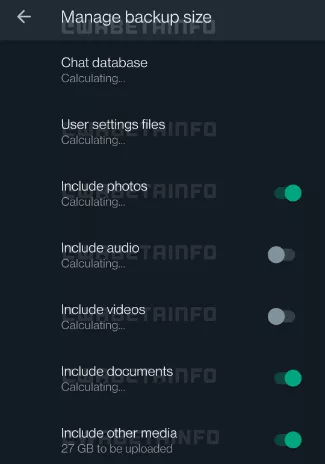 According to the filtration, this section is going to be launched because WhatsApp will only include 2 GB of storage in Google Drive, if we go over that amount it will begin to consume the space of our account. And currently, the free plans barely offer 15 GB, a very small amount.
We do not know if this change is because Google and WhatsApp have not renewed their special agreement, or if it has to do with the fact that WhatsApp has added encryption to the backup of iCloud and Google Drive, in addition to the one offered by these services.
In any case, online backups are one of the priorities of the company, which finally plans to move from Android to iOS. Curiously, they will be less and less necessary, since WhatsApp's new multi-device mode synchronizes conversations without depending on a main mobile phone.
We will have to wait for this leak to be confirmed, but WhatsApp consuming space in Google Drive will be uncomfortable, and the tool to manage the backup will limit the inconvenience very little.