Most of the coolest gadgets these days come with a catch – the batteries generally don't last as long the device itself. So no matter how well you have maintained your iPod, iPod classic or iPod touch, you will need a battery replacement sooner or later. Generally after a period of 18-24 months the need for an iPod replacement battery arises.
Some batteries last longer and some lesser than this period, but it all depends on how much you use the iPod and how many charging cycles it has undergone. The first indication that a replacement may be required is when charging becomes a more frequent affair.
Clearly the battery lacks juice and continuously listening to music on-the-go (which is the USP of the iPod and itouch) becomes a bit of a challenge. So what do you do? The battery is sealed in the device and there are no screws, hinges or other ways of taking it out.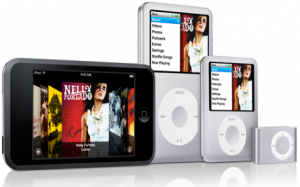 First off, don't try to take the iPod battery by yourself, no matter how much of a tech whiz you consider yourself! You may end up damaging the device beyond repair. Before you try anything, you can check the status of your iPod's battery and analyze if it's draining too quickly. The safe options are:
Get a replacement battery from Apple
Apple offers a battery replacement scheme for out of warranty iPod devices. Though there are several terms and conditions you have to abide by, this is probably the safest way to get a new battery for your iPod. You can check out this scheme online or walk into one of the Apple Stores in person. Apple charges more than $50 for these services.
Try iPod replacement batteries services, both online and offline
If your device is out of warranty you can consider this option too. But make sure that you back up your iPod data before sending it for a battery replacement. These non-manufacturer services can cost you anything between $15 and $50.
There are several 'do-it-yourself' kits for changing the iPod battery available online. While these may seem the cheapest option, to reiterate a point made earlier, the risk of inadvertently damaging the device is too great and not worth taking, at all.
Now the question is whether it is worthwhile going for an iPod replacement battery. If you have a first/second generation iPod probably getting a new iPod is a better idea. You will get more features and the device will last you a few more years quite easily. But if you have made up your mind on getting a new battery, go for the safe options. Also check out several ways to keep your iPod Touch battery life stable.