So, you finally got your hands on a shiny Android phone which you had wanted ever since Google unleashed its little green robots on the world. Time to load it with what else, Applications! Tons and tons of them! Here are 7 absolute must have androids apps for your smartphone.
They're all free apps. Read on.
Top Must Have Android Apps
1) Dolphin Browser – If you're wondering how this is any different from the default Android browser, here's the lowdown. Tabbed Browsing, Multi-touch Pinch Zoom ala the iPhone, saving Cache to SD card, pre configured as well as user configurable gestures (for example draw 'Z' shape on screen to close current tab), Themes. This has it all.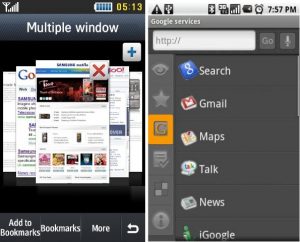 It's not called 'Firefox for Android' without a reason. The normal version is available for phones running Android 1.6 and up while the Dolphin HD version is used on phones running Android 2.1 and up.
2) Mototorch LED – Lets you use your camera's flash LED as a flashlight. What's so amazing about that you may ask. Well, you can also flash Morse Code through it. That's right. Morse Code. Not much use but sheer Geeky pleasure.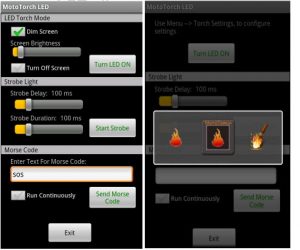 3) Shazam – Can't attach a name to the tune you've been jiving to. Want to? Shazam! Well yes, that's the app that'll recognize the song for you.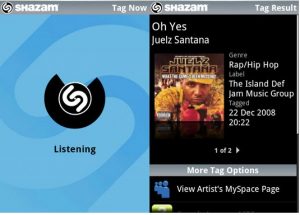 Just put your phone up to the song that is playing and shazam will do the rest. It shall not only identify the track for you but also get you download links and music videos if available. Plus it's called Shazam(!).
4) Evernote – In case you aren't familiar with Evernote's services, it lets you keep track of notes, photos, recordings and more. The app allows you to do all of these on the go.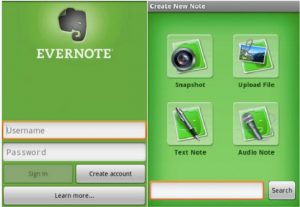 And the best part is, it syncs with your online account so you can access the same from any other device with Evernote installed on it. One use of this one stop productivity app will have you hooked.
5) Google Sky Map – This app is coolness. All you need to do is turn your phone towards the night sky and it instantly turns your phone into a map of the sky! Stars, planets and entire constellations at your fingertips.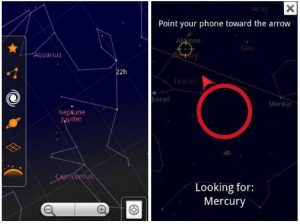 You can even disengage the compass view and float freely through the galaxy with your finger. Who new identifying celestial bodies could be so much fun.
6) Google Goggles -Two words sum this app up, Visual Google. Using your handset's camera you can search any landmark, product, stores or even text to get relevant search results. Works like a breeze recognizing both contemporary and obscure test subjects with equal aplomb. Trust Google to make even searching simpler.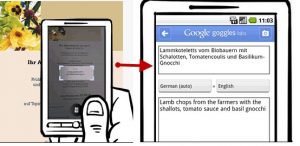 7) Handcent SMS – While the standard Android SMS client does its job, there's always room for improvement right? That's where handscent SMS steps in.
Customizable interface (a very cool one at that), pop-up alerts, fonts, speech bubbles, etc. It has all the bells and whistles.
So, there you go readers: 7 cool applications to quench your thirst (for the time being). Any other recommended Android apps that's in your 'must-have' list? Share it here.