Have a document that you want to convert from Adobe PDF to Word format?
There are benefits of converting files online. For instance, if you pick a file that needs to be converted, convert it using online tools as there is no need to download any software.
The online file conversion can take place on any kind of browser and on any type of OS — Windows, Mac or Linux — as everything happens on the server. Plus, you don't have to pay anything, as online document converting services are free to use.
Before Using These PDF Converter Tools
After having used most of these web tools regularly, I know some of them can be shady. Although you don't have to register an account for converting .PDF to .DOC file format, you may receive unexpected email message from them — these are usually promotional messages, but they are occasionally sent.
This usually happens when you ask these sites to send you an email after the file has been converted. Note that all the submitted and converted files will remain on the servers for a short time, which means you have to download them quickly — none of your files will be visible on the Internet.
One More Thing…
Most of us convert files because editing .doc documents is easier than editing PDFs. Teachers, usually in college, demand students to send assignments and homeworks in Microsoft Word format.
Now, if you are going to use the sites mentioned below, and you don't want to receive promotional messages, use disposable email addresses instead of going with your primary email address.
That said, here are my top 7 picks of the best online tools available on the web that makes it easier to convert PDF to Microsoft's Word documents.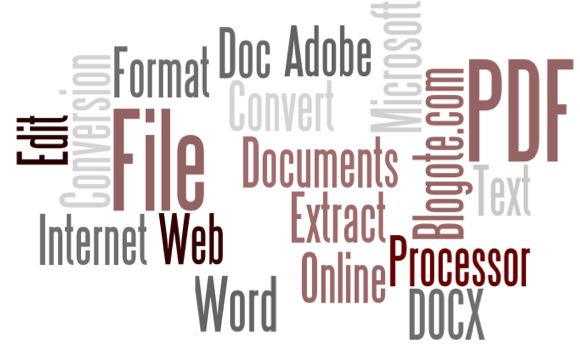 Convert PDF to Word Online
1. Google Docs – After uploading PDF documents to Google Docs, you can edit the file, format it the way you want and then export it to Word (.DOC  or .DOCX) format. This free online tool is probably the best out there, not because it's free but also because the quality of the generated PDF file is much clearer.
2. Zamzar: The site that needs no introduction, Zamzar can convert files of any extension to another extension in less than 5 minutes. You have to upload the file, wait for the conversion (or enter your email to get the converted file emailed to you) and download the file.
3. Comet Docs: A popular file converting tool, similar to Zamzar, offers PDF to Word conversion. There are four simple steps to follow for converting file into Word format.
4. PDF Online: All the complex PDFs, with tables and images included in the document, are properly converted to Word format without scarifying the layout and format of the original file.
5. PDF to Word:  You can convert variety of files to PDF format with this free tool. Upload the file, enter your email to receive the newly converted PDF in your inbox in less than 20 minutes. Upload limit: 10 MB per file.
6. New OCR: If your PDF documents have images with text on them, you can convert these images into editable text format using New OCR. The converted text can be copied and pasted on your desktop Word Processor, which can be later exported into the desired format.
7. DocsPal: DocsPal lets you upload file from your computer or enter the URL of the document. The site doesn't identify the file format, so you have to select the original format along with the converted format you want.
8. PDFCreator: PDFCreator can be used for PDF conversions, but it also has many other features allowing you to secure your documents, merge and rearrange documents, and create PDF/A files.
Do you have any other site that needs to be added to the list? Which services do you think are the best of 'em all? Let me know through your comments below!