Nokia Lumia series of smartphones, wrapped with Microsoft's Windows Phone 7 OS, are a worthy contender in the mobile market. Out of the 3 Nokia Lumia phones we are aware of, only one or two are available for purchase, that too only in a few selected countries.
So how do you discover if a particular Lumia phone of your interest is available in your country? This is where Nokia's Momentum Map (access here) kicks in as a really useful, bookmark-worthy page.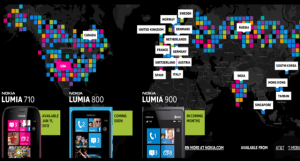 This super-colorful map shows countries where Nokia Lumia phones are available. Take, for example, Nokia Lumia 710; the phone will be available for purchase starting tomorrow in US.
Clicking on UK will crop up information about Nokia Lumia 800, which is the only Lumia phone available in the UK right now. Both Nokia Lumia 710 and 800 handset models are available in India.
Nokia Lumia 900 is not to be seen anywhere and remains exclusive to USA under AT&T carrier.