Want to update everyone about Demonoid and why demonoid is down, at least in India. From a past couple of days (in-fact it's been nearly 2 weeks of downtime) Demonoid is not accessible to most of the users (including me) and this effect has been caused due to the conflicts of ISP.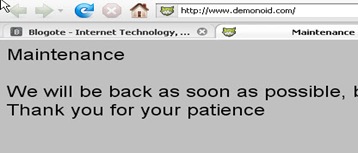 Reason for Demonoid Blank Page
If you're trying to login to demonoid or if you've visited Demonoid.com and if it is opening at your end then Demonoid is perfectly working fine. But Demonoid.com in India (and I assume other countries as well) displays blank white page while trying to login. Randomly it also displays messages such as
Maintenance
We will be back as soon as possible, but this will probably be a prolonged downtime.
Thank you for your patience
Making a search on the web I found out that Demonoid is blocking Indian IP's as well as IP of several countries that has created this problem of inaccessibility, I assume this is due to the high member of user capacity which demonoid is unable to hold and therefore they have banned access to their torrent trackers. And the only available solutions are the public torrents which are unmatchable to Demonoid 
Even the demonoid forum has been blocked and I am sure Demonoid is working but it's down for users of several countries, I am still wondering when will demonoid get back up, hopefully quite soon. aXXo Movies left us and now it's the turn of Demonoid!