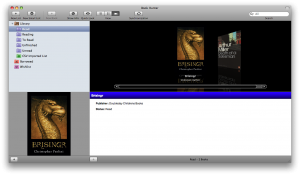 If iTunes is the definitive tool for managing your music library, then Book Hunter, a free, relatively unknown yet amazing piece of software is, (at least for me) the definitive tool for managing your book library.
Sure, even though with the new iBookstore for iPad (and soon-to-be for iPhone), you can manage your e-books via iTunes, in the new "Book" category, I still find Book Hunter to be an awesome tool for managing your physical book library — you know, those things with actual pages (gasp!) that have printed (!) words in them.
Okay, jokes aside, if you own or manage a library, or find yourself lending out your books to a lot of friends quite often, then this free piece of software may just be ideal for you.
It allows you to manage a library of books, which can be indexed via a number of attributes: genre, author, publisher, year… to name a few. You can also set your own categories, in the form of smart folders (like in iTunes with smart playlists) to easily sort your books. This can come in handy if you, like me, own a heck of a lot of books.
The interface is very "iTunes-like", and this allows you to get up-and-running with Book Hunter very quickly. There's even a cool view that allows you to flick through the covers of the books in your library, just like you would with CD covers in iTunes. It also has support for a host of plugins to extend its capability; they're easy to install from within the app, via the Advanced Menu.
Adding books to your library is as simple as using the main toolbar; "New Book" brings up the Book Info editor, and "New List" creates, you guessed it, a smart list that you can "dump" books into for quick reference later.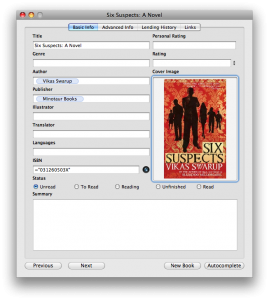 But the beauty of Book Hunter is in that little window, the Book Info editor. Now we all know it's a pain to type in the CD info text when adding a new music album into iTunes; that's why Gracenote automatically fetches the correct album info when you import a CD.
Well, on Book Hunter, it's a whole lot cooler. In fact, you don't even have to touch your keyboard at all to enter book data: simply click that little camera icon next to the ISBN field, and a new iSight camera window appears, with a lot of red horizontal bars in the centre. Simply hold your book's barcode (located on the back cover of all books) to your Mac's iSight camera (located in the top-centre bezel, above the LCD), and the iSight technology will automatically scan the barcode, retrieve the ISBN code, and query Amazon.com for the relevant information pertaining to that ISBN. Amazing.

Within the Book Info editor, you can also manage who you lend your book to, including setting a due date, and logging when that person handed in your book. Book Hunter automatically retrieves contacts from your Mac's Address Book.
The bottom line: Book Hunter is superb software. It can even turn your expansive shelves of books into a (perhaps lucrative) library. And the best part: it's free. There's so many features that this app has, it's difficult to include them in a single blog post. So why not give the app a spin yourself?
Book Hunter is only available for Mac, though. You can download it here (for Leopard) and here (for Snow Leopard). The software was created by Joel Ares.