How do I jailbreak or install Cydia on my iPhone 5? Do we have a working iOS 6 jailbreak tool for iPhone 5? These are some of the questions that gets asked around a lot. If you are an iPhone 4S user, then I'd recommend you to read this article on iOS 6 jailbreak — the whole article revolves around iOS 6 jailbreaking.
If you have read the article, then you already have the answers for your questions. But if you haven't, and if you need further information on A5 jailbreaking, read on further.
iOS 6 Jailbreak
For those who are new to the jailbreaking scene, note that the iPhone Dev Team exploits iOS firmwares out of interest — they are not here to make money (oh, and they don't even accept donations). So if you have come across websites claiming that iPhone 5 and iPhone 4S on iOS 6 is jailbreakable, then you know it's a scam. As mentioned in this article:
All of these devices, even if they are on iOS 6, can be jailbroken:

iPhone 3GS
iPhone 4
iPod touch 4G

The jailbreaking procedure is fairly simple: download RedSn0w for Windows or Mac, setup and install the tool, plug the iOS device to a computer, launch RedSn0w, follow the instructions and wait for a couple of minute.
I further elaborated that:
As there's no bootroom exploit available for A5/A6 (includes iPhone 5) devices, jailbreaking iPhone 4S/5 on iOS 6 is still a stretched out dream.
The answer is very much clear now, but let me stress the fact again: We do not have any iPhone 5 jailbreak yet! Anyone who has purchased an iPhone 5 from Apple Store — new or refurbished model — will have iOS 6 installed, and this naturally means two things:
There's no iOS 6 jailbreak, which means you cannot jailbreak your iPhone 5.
You cannot downgrade your iPhone 5 from iOS 6 to iOS 5 firmware.
This also applies for brand new iPhone 4S that comes pre-installed with iOS 6 firmware.
PlanetBeing, a member of iPhone Dev Team, tweeted this a few weeks ago: "Upgraded the #failbreak with a kernel exploit so tweaks actually work on iPhone 5. Almost a full tethered JB, though need dev account."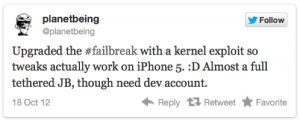 For those who don't know yet, the dev account is Apple's Developer Program which costs $99 per year. Even if you have this account, you will not be able to jailbreak as the whole tutorial is not out yet.
The current iOS 6 jailbreak is a tethered jailbreak (applicable only for iPhone 3GS/4, iPod Touch 4G), and this tethered jailbreak comes with its own set of restrictions — if you restart the device or the battery goes flat, then you have to jailbreak the device once again. We are still waiting for the untethered jailbreak for iOS 6. But more importantly, we are still waiting to see if the iPhone Dev Team can jailbreak A5 devices.
When will they do that? We don't know  — I know that's disappointing, but that's the only way to put it.